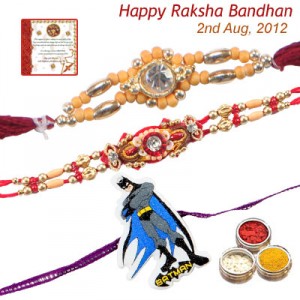 Rakshabandhan is just round the corner…on 2nd August, 2012. Most online shopping sites that allow you to send Gifts to India take anywhere between 15 to 20 days to deliver the gifts. Gujarat Gifts does have the shortest delivery time for Rakhi to India – two to three days for major cities in India where gifts can be delivered through Blue Dart courier services and about five to six days for remote locations, only within the reach of Indian Speed Post service.
Yet, if you want to make sure that your brother does not have an unadorned wrist on the auspicious day, this is the time to send Rakhi to India.
This is the monsoon season in India – highly unpredictable in most parts of India. Landslides, incessant rains, pot holes and traffic jams are just some of the reasons that make it difficult to rush to a destination. The team at Gujarat Gifts is dedicated to keeping our customers happy and satisfied and yet, it is always a good idea to have more time at hand to Send Rakhis to Indiato keep our targets simple and achievable.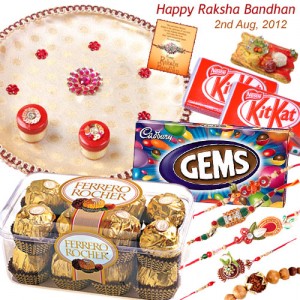 Moreover, our Rakhi collection is one of our hottest sections right now. We do keep adding new products to it but it might get depleted, if you wait till the eleventh hour! Please note that while Rakhi sweets, flowers, and cakes are delivered fresh on the same day of your order in about 500 cities in India, delivery of Rakhis and other Rakhi Gifts to India may take time, depending on the reachability of the destination.
Visit: http://www.gujaratgifts.com/send-rakhi-to-india/dry-fruit-hampers.html