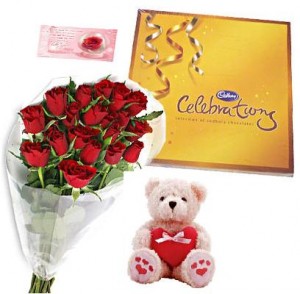 Every Raksha Bandhan, you fret about sending Rakhi gifts to India for your sister. The only challenge is that she is miles away from you and Rakhi gifts for sisters available online are just too expensive. So, you phone her on her special day and promise her to bring a lovely gift next time you fly home.
But receiving Rakhi gifts late is as bad as wishing someone birthday the next day. When you choose to Send Gifts to India, just remember that the art of gifting has little to do with the monetary value of the gift. It is about expression of your love. Here are three tips to make any Rakhi gift special:
Assort a Rakhi special gift hamper: Flowers, by themselves, are sweet but try including a box of chocolates or a teddy along with it and you may have a perfect combo for your sister. You may also throw in a video game for your nephew and a doll for your niece, and gift their beaming faces to your sister.
Research about what your sister needs or her preferences: A kitchen appliance for a sister who hates kitchen will surely be a super-flop Rakhi Gifts idea. A key chain, pen, or handbag with your family photos or the photos of your sister's favorite rock star can be a cute functional accessory she can easily carry everywhere. It will also add to her style statement.
Personalize gifts: A 3D crystal cube with a laser-engraved photo of your and your sister's childhood moments together can be used as paper-weight on your sister's study table or can be put on display in the drawing room. A pen with your sister's name and photo on it can be a cheap Gifts for Rakhi to India which shows how much you love her.
Gujarat Gifts, you will find excellent Rakhi gifts for sisters online. Just go to different categories and order ones you like.
Visit: http://www.gujaratgifts.com/send-rakhi-to-india/return-gifts-for-sister.html