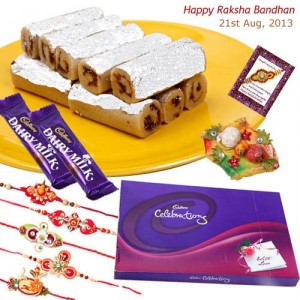 When you Send Rakhi Gifts to India, it is not the gift but the thought that goes in choosing that gift that should be the focus of the tradition. We bring you Top 5 Rakhi Gifts that sisters often send to their brothers in India:
Gentleman's Hamper: If your brother is a professor or at a reputable designation or seems like a perfect gentleman at all times, the Gentleman's hamper will be a perfect gift for him. The hamper includes five Ferrero Rocher chocolates, two Parker pens to grace his desk, and two rakhis.
Auspicious Car Stands: Om Ganesha car stand and Balaji car stand available at Gujarat Gifts are gold-plated and decorated with American diamonds. They are just perfect for brothers who have bought new cars. Hopefully, your prayers and the divine blessings of the deities will always keep your brother and his family safe while traveling.
Gifts that evoke blessings of Goddess Lakshmi: Businessmen and dealers instantly fall in love with anything that grants them wealth and prosperity. So, if your brother is one, you can choose to send Luck & Delight gift hamper, Tremendous Delight gift hamper, and Exclusive Rakhi Hamper as online gifts for Rakhi to India. These hampers include yantras that evoke the pleasure of Lakshmi ji – the goddess of wealth and prosperity.
Gift for metro sexual bro: If your brother is too much into good looks and grooming, is a teenager, or a metro sexual, you can send him Complete rakhi gift hamper. It includes Lakme Total Care pack and a pen stand.
Perfect Hamper for all brothers: Sometimes it is difficult to decide what gift would be suitable for your brother. In such a case, such Raksha Bandhan Gifts to India are perfect answers to your dilemmas. Ganesha and Lakshmi idols represent good fortune and wisdom for your brother and the assorted dry fruit pack has an ethnic appeal that continues to charm Indians.
All these Rakhi gifts include fancy rakhis, a free greeting card, and a free handcrafted tikka for your brother with roli, chaawal, and an auspicious kodi.
Visit: http://www.gujaratgifts.com/send-rakhi-to-india/dry-fruit-thali.html