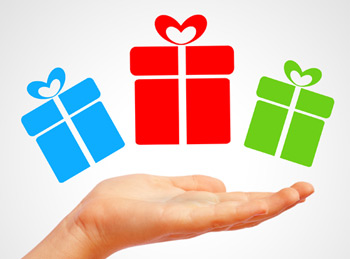 Most people with whom we share holiday gifts already have everything in the world. We get a lot of joy in bringing a smile and cheer on the faces of our loved ones. However, we often forget that gifting can bring an even greater joy if it is for the people who have nothing. Charity Gifts if chosen wisely, can transform someone's life or save it too. The least they do is bring cheer, joy and hope to people who need it most. Here are some charity gift ideas for different social causes. One can contact any of the NGOs, and either gift these in person or utilize any of the online gifting services for the task:
• Victims of Child Trafficking & Homeless Women: Girls and women are the most vulnerable sections of Indian society. They are even more at risk if they are abandoned by their families or have been drug addicts, in severe need of rehabilitation. The good thing is that there are many NGOs working to empower them and provide shelter for them. One can also chip in directly, by gifting them some essentials, in partnership with the NGOs. Holiday gifts for them can include baby beds, feeding bottles and baby gift sets that can help new moms take care of their children during the first few weeks of their lives. Even simple and traditional kitchen and home appliances such as cooker, tiffins & casseroles can be appreciated more than you would imagine. You may also help women jumpstart their career as a beautician by ordering them gifts like cosmetic hampers, grooming items and beauty appliances like hair styler and hair dryer.
• Children: From orphanages to shelter homes to schools for poor children, there are many places where you can reach out to destitute and poor kids, disabled children, and children who live in extremely poor conditions. You may order school gear such as school bags, tiffins, water bottles and stationery supplies for them. Arts & Hobbies kits like colouring sets and play dough sets, board games that can help learning or soft toys and chocolates are all gifts that will delight! For an orphanage with ample space, sports kits like cricket sets, badminton, football and volleyball are a good idea too.
• Empowering the Poor: Buying handicraft items is one way to feed a family or community, without hurting their self-respect. Made by artisans trained for generations, these exquisite artistic pieces will certainly make the day of the recipient, and help artisans earn their livelihood with dignity. Home decor items like diyas and candles, idols of gods and goddesses, torans and elegant handmade jewellery ultimately come from poor families who make these to feed their families.
Small charity gifts that come from the heart are better than the elaborate philanthropic acts that mean little to people who organise them. Gujarat Gifts tries to promote products by small artisans and women and contribute to their income by selling these online. Our experts can guide you further about which charity gifts you can buy, and where you can send them, depending on your budget and the social cause closest to your heart. You need not buy from us – we would be happy to help you connect with a charity of your choice.