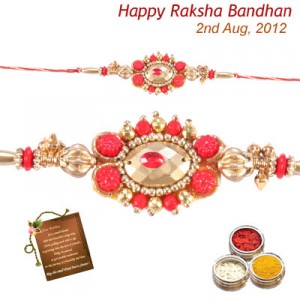 We have become so caught up with the constant hum-drum of our daily routine lives that we forget to take out time for things that really matter. Especially if we live abroad, we find it difficult to keep track of all the Indian festivals. Our colleagues, fellow students, and friends hardly understand the multiplicity of festivals, celebrations, and auspicious occasions that we have. NRI meets, where all the Indians gather to celebrate a particular occasion, are rare.
Raksha Bandhan is one of the festivals that is not so well-known outside India. While Westerns are well aware of Holi – the festival of colours and Diwali – the festival of lights, they hardly know anything about Raksha Bandhan – the festival of brothers and sisters. So, if it has slipped your mind until now, please note that the festival of Rakhi is on 2nd August, 2012. This is the time to order Online Rakhi to Indiaif you want to get it delivered on time.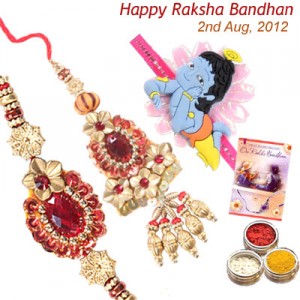 As we all know, efficiency is not always the forte of our country. Along with systemic delays, there are certain intangible factor like uncertain monsoon conditions and broken roads that one needs to keep in mind. Gujarat Gifts has developed an efficient system to deliver your Rakhis to India on time, with minimum strain on your pocket.
This India-based online gift portal offers extensive collection of online Rakhis to India as well as some of the exclusive Rakhi Gifts to Indiaonline to send along with them. That you forgot to order them until the last minute – well, that will remain a secret between us…shhhh!
Visit: http://www.gujaratgifts.com/send-rakhi-to-india/rakhis.html