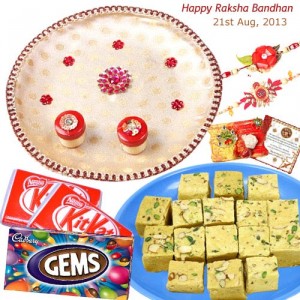 What is more sacred than the chaste relationship of a brother and a sister! Growing up together, they fight and cry, care and adore, stand up for each other and get each other into problems, look for their own space and look out for each other – brothers and sisters are inseparable. Gujarat Gifts nderstands these emotions quite well and hence, has come up with gift options that help you communicate them well to your brother and sister in India.
Here are some of the suggestions from Rakhi 2013 collection with witty messages that you can send as Rakhi Gifts to India:
A cosmetic kit just perfect for a sister or a brother who hogs the mirror all the time. While the cosmetic Rakhi packages at Gujarat Gifts are all branded, you can add the fun element by saying, "Let the magic of these beauty products work on you, witch!" Do find some good places to hide when you meet your sister next time.
On a more serious note, these cosmetics are high-quality products and will actually help your sister glow.
A cute teddy for a little sister says how much you care for her. It will also help your school-going sister to sleep better while cuddling the softie. You can attach the message, "Your big brother will always be there for you. Be light and bright forever."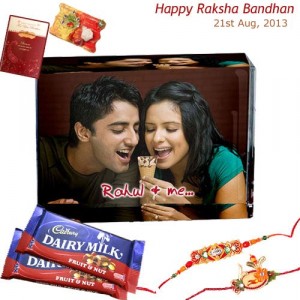 For a sister who sleeps a bit too much, a pillow is a perfect Raksha Bandhan Gifts. And you can get it Personalized Rakhi Gifts to India too. You can add a good photo of you and your sister with simply 'For my sweet sister, <Your Name>' or you can Google for the photo of a screaming man and add the text – 'Help! Get this lazy one out of here!'
Only you know what works best for you.
If you are having doubts about what or how to send Gifts for Rakhi to India, you can email id at info@gujaratgifts.com for a prompt and free gift consultancy.
Visit: http://www.gujaratgifts.com/send-rakhi-to-india/rakhi-thali.html