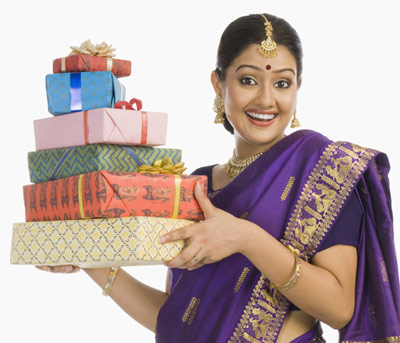 Mother's day this year is on Sunday, the 11th of May, and online shopping for gifts is on, in full swing, with 3 days to go for the event! As we have been handling the event for almost 17 years now, we thought it might be fun to take a peek, and share interesting details of what people are buying this year for their mom and other interesting trends vis-à-vis Mother's day.
While are still accepting Mothers' day gifts orders for 3 days, we crunched the numbers for the sales so far, and here are our findings!
1)      Most loved gifts for mom: Unsurprisingly, the number 1 gift for mothers is Flowers. However, most people bought flower hampers in combination with cakes, chocolates, and dry fruits in that order. Most shoppers, being well versed with online gifting opted for ready-made hampers, instead of buying gifts ala-carte, thus saving a tidy sum in the process!
Galloping ahead of regulars, Personalized Gifts surprisingly had a strong surge in sales this year, indicating a growing preference to customize one's gifts with photos, text and custom messages
Sarees, Accessories, Perfumes and Jewellery are a staple feature, and these categories did well, after the above categories. Home appliances, Kitchen appliances and silver gifts rounded-out the pecking order.
2)      Average Spends: Surprisingly, the average order value of Mother's day gifts exceeds that of Valentine's Day, which shows that shoppers do ensure that their mom feels as special as their spouse, on special occasions. Our breakup is as follows (rounded figures):
Upto $ 20                                22%
From $ 21 to $ 30                    37%
From $ 31 to $ 40                    28%
From $ 40 to $ 60                    8%
Above $ 60                              5%
Above $ 100 (included above)                          2%
3)      Age & Gender:  54% of shoppers were male, as compared to 46% females. The age breakup of our Mother's day shoppers was:
18-24               27%
25-34               34%
35-44               15%
45-54               12%
55+                  12%
The age breakup does reveal the trend that even shoppers aged above 50 take care to wish their elderly parents back home on Mother's day. This is a heartening trend and talks volumes about the Indian culture and the bonds of love across continents.
4)      Top 10 Shopper Locations:  These follow a usual trend, and our shoppers are from the major metros worldwide. The ranking order by country is:
United States
Canada
India
Australia
UK
UAE
Singapore
Bahamas (!)
South Africa
New Zealand
This data reveals the trend that Indian shoppers within India have taken to online gifting in a major way, thus putting India at the # 3 spot, and giving many other countries a run for their money. This just goes to underscore the fact that Internet users in India are warming up to the convenience and cost effectiveness of online gifting, which has been mainstream in other countries for many years.
5) Top 5 Indian States: The top locations within India contributing to sales are:
Maharashtra
Delhi
Gujarat
Karnataka
Madhya Pradesh
We hope you had fun glancing through these interesting numbers! We are still accepting orders for Mother's day for the next 3 days, and will be sure to update these, if trends change significantly after the occasion. Wishing all patrons, and their moms, a very Happy Mother's day 2014!
Our Mother's day special is at: http://www.gujaratgifts.com/mothers-day-gifts-to-india.html