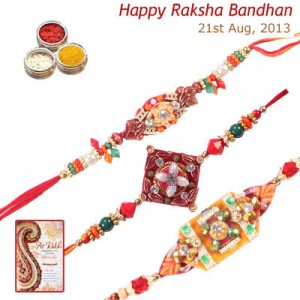 Do you know that Raksha Bandhan (Bond of Protection) is perhaps the only festival of its kind in the world to celebrate the love of brother and sister? When sisters send rakhi to India, it means that they are offering prayers for the happiness, prosperity, and long life of their brothers and their families.
A brother, who proudly sports rakhis on his wrists, glows with the pride and love for his sisters. A Rakhi to India is a symbol of the love of a sister and a commitment of a brother to protect her sister and her happiness at all costs.
Online rakhi collection at Gujarat Giftsincludes:
Sandalwood (chandan) rakhis that come with their delightful fragrance. Sandalwood is considered sacred and is a favourite of Lord Vishnu. Sandalwood rakhis may contain small sandalwood beads, trinkets or shavings.
Rudraksha rakhis may have one or more rudraksha beads in the centre. A favourite of Lord Shiva, a wrinkled rudraksha bead is said to attract good health and fortune and ward off evil and bad luck.
Mauli Rakhis are simple, traditional and comfortable to wear.  Mauli strands are often tied on the wrists when one performs a puja and it is considered auspicious for the wearer.
Lumba rakhis are beautiful. Originally, they come from Rajasthan and are tied on the wrists of sister-in-laws (bhabhis). In a religion that considers wife to be the other half of the husband, it cannot be enough for a sister to just pray for the protection of his brother. Thus, Lumba rakhis wish all the good health and fortune for the bhabhis too.
Explore the website to discover more than 1,000 types of rakhis at Gujarat Gifts.
Visit: http://www.gujaratgifts.com/send-rakhi-to-india/rakhis.html