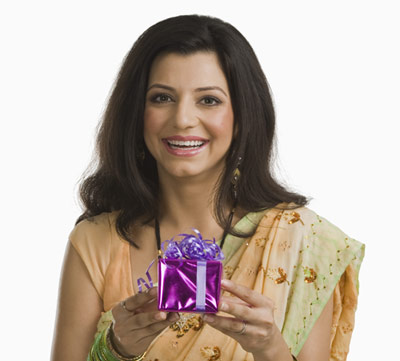 Being an Indian gifting site does give us certain advantages – we get to see celebrations of both Indian as well as overseas holidays! After all, our roots are always grounded in India, but as we travel and work in foreign countries, we do end up assimilating the local customs there.
Mother's day is one such curious phenomenon – If you had happened to visit a gift or a card shop about 15-20 years back in India around the second sunday of May, you would have seen no signs of a festival dedicated to mothers! It was simply unheard of in India – Valentine's Day: Yes, Mother's Day: what's that?!
However, 1991 came, and brought along an opening up of our economy, which led to the inevitable movement of professionals abroad, in search of greener pastures. These people quickly took to the local holidays in US and UK, and added these to their holiday list. The 2nd generation kids of the emigrants grew up steeped in these festivals, occasionally wondering why their cousins in India had never heard of such festivals!
Some of these families, when they moved back to India ended up importing these festivals, in addition to exotic celebrations like Halloween!
Thus was born the concept of Mother's Day celebrations in India. In fact, our country ends up celebrating two versions of this occasion, though the second one is more widely known:
i)   Mothering Day: A holiday originating from UK, and celebrated in March (30th March in 2014)
ii)  Mother's Day: The US and International version, celebrated on the 2nd Sunday of May (11th May 2014 this year)
The concept does make sense – After all, if you have a day to celebrate your love for your soul mate, shouldn't there be another dedicated to the other important woman of your life? However, we being Indians, have ended up making Mother's day celebrations a pretty desi affair. Here's how the occasion is celebrated in India these days:
The bandwagon is led inevitably by retailers, both online and offline, looking for another occasion to sell us more cards, electronics, jewellery, along with flowers, cakes and perfumes.
It's common to see offers in our email boxes as well as in newspapers, reminding us of the need to express our love for our mom "on her special day!" (and here we thought every mom's special day was simply the day when her child got married!)
Many youngsters, loaded with some guilt on not spending enough time with their parents, do make it a point to take their mom (or parents) out for movies and dinner on this day. Some daughters do make this a shopping-day-out-for-the-girls.
Spa companies, perhaps looking for an alternate customer base, do make it a point to persuade you to let them pamper your mom on that day, often with steep discounts.
Mom's being moms are typically more vocal in gently dissuading their children from buying them expensive stuff. However, if you buy her something on this day, you can rest assured that the afterglow of that act will be remembered for years, just because she won't be expecting a gift from you.
Stay tuned, as we bring you more updates on this festival, along with some unusual gifting ideas for Indian mothers. Mother's day is next month, on Sunday, the 11th of May 2014.
Visit our Mother's day special at : http://www.gujaratgifts.com/mothers-day-gifts-to-india.html