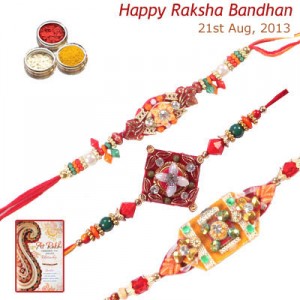 Though 'Sibling Rivalry' is a commonly heard term, the phrase 'Sibling love' is not something one hears of very commonly. Thankfully, there is a special day that is dedicated to the beautiful relationship shared by a brother and a sister in Indian culture and that special day is celebrated as a popular festival. Raksha Bandhan is one of India's most popular and loved festivals which are celebrated in several parts of the country with great enthusiasm and gusto. The words 'Raksha Bandhan' literally translate into a bond of protection. In this festival, the sister ties a fancy thread called' 'Rakhis' on her brother's right hand's wrist and prays for his well-being and long life. The brother vows to protect his sister from all harm and this short and sweet ceremony is, in fact, the essence of the festival.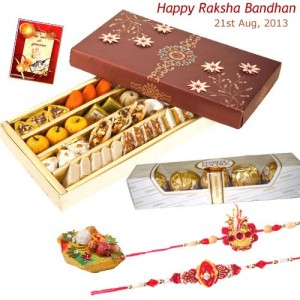 Brothers buy gifts for their sisters on this occasion as a token of their love and commitment to their sister or they present her with a token amount instead. Sisters too give gifts to their beloved brother on the occasion. Now Send Rakhi to India in the form of Online Rakhi for Rakshan Bandhan 2013. Online gifts portals can help you send Rakhi to India in a matter of minutes.
You can also Buy Rakhi Gifts Ideas on a good quality gifts portal. Visit www.gujaratgifts.com to send Rakhi to India conveniently and reliably for Raksha Bandhan 2013. Payment can be made online using a credit card, net banking or mobile payment facility.